HBNCRIIA-India Grassroots Innovation Awards

In partnership with Amazon, India
National Awards for Inclusive Innovations for and from grassroots
Mission Statement
To celebrate the unique creativity and innovation of people from and for the grassroots and recognize their contribution towards making India inclusive and innovative
To Identify 2000 grassroots innovations across various sectors, finally selecting 15 innovations for felicitation at the annual national award function

To celebrate the creativity of common people and help them gain respect, recognition, and reward and become part of the Honey Bee Network

To preserve and promote outstanding traditional knowledge and facilitate value addition to them for large-scale replication in a commercially sustainable manner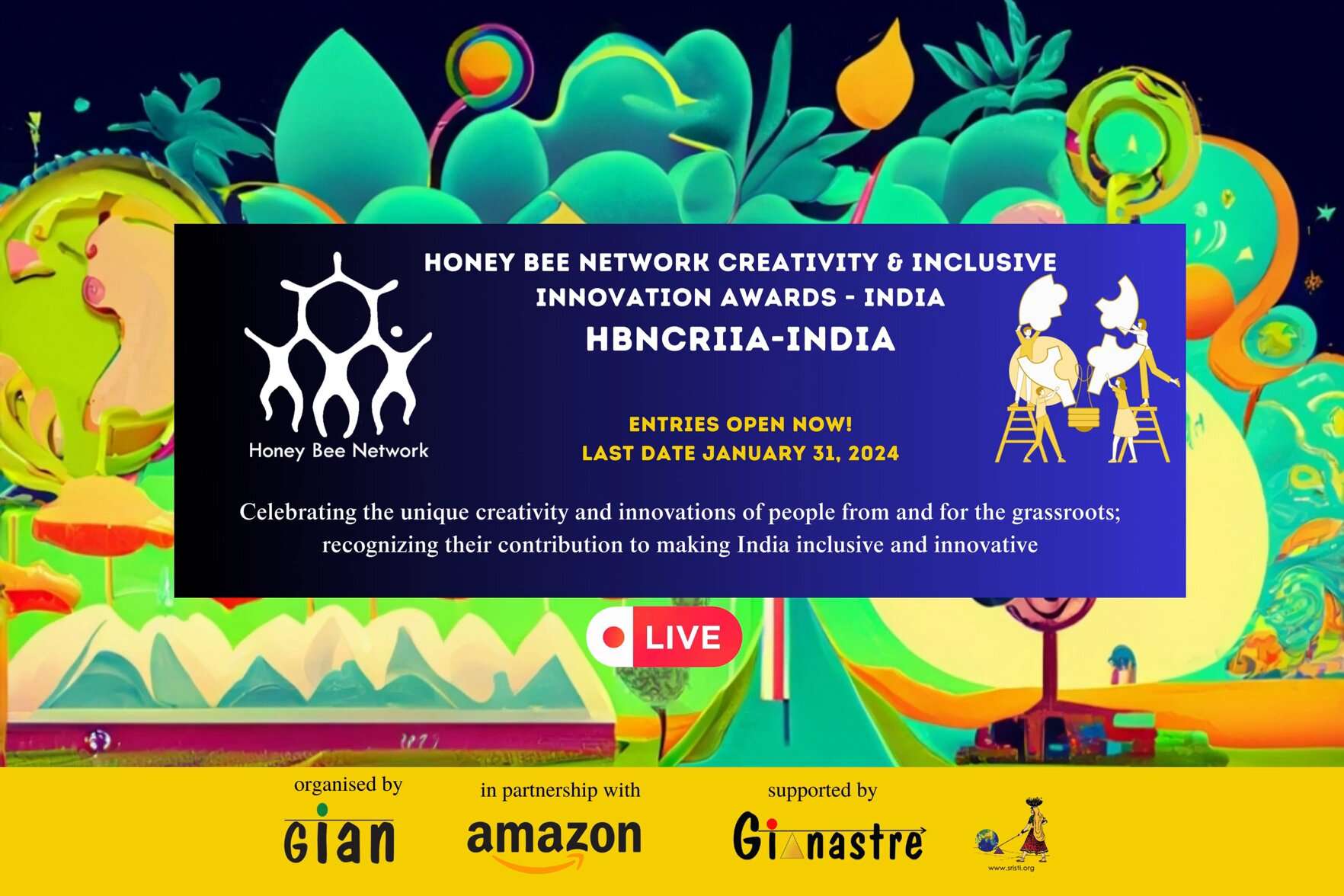 National: A total of 15 awards will be given to the selected participants.

1st prize: 5 lakh INR

2nd prize: 3 lakh INR

3rd prize: 2 lakh INR

Appreciation awards of Rs 50,000 each to be given to 12 innovators

A certificate from GIAN-Amazon recognizing their unique innovations
Innovations could be in any domain/area: farm/non-farm application, education, infrastructure, traditional knowledge, environment, agriculture, reduction in drudgery of women, livelihoods, accessibility, etc.

No restrictions as to age, gender, class, education etc.

The innovation should generally be well-aligned with the SDGs.

The innovation should have the potential to scale further.

Prior small-scale funding or minor recognition will not disqualify any participant but those who have received well-recognized national awards or major investments will be excluded
Details to be submitted while applying
Status of Applicant: individual/proprietorship concern/private company/registered start-up

Details of the innovation

History of the innovation

Patent information of the product (if any)

A video of the innovation or a link to the video

Website details or link to any video platform demonstrating the working of innovation

If possible, details about similar products anywhere in the world,

A declaration that the applicant is the sole person responsible or owner of the innovation;

A declaration that HBNCRIIA/GIAN can share shortlisted ideas with due acknowledgement of the innovator widely to create awareness about such worthy ideas and the campaign
Submitted Innovation will be accessible to experts for review

The decision of the review & screening committee will be final and no queries pertaining to the selection process or selection of the innovations will be entertained.

Representative of GIAN or Amazon or committee thereof is free to make a visit to verify the claims of the innovator or innovation at their own cost.

Submitted entries will be the part of Honey Bee network database as long as GIAN desires and can be shared with others for wider awareness and creating culture of innovation

The innovation submitted or selected for the awards by GIAN & Amazon will be free to get published by GIAN in its promotional, communication, marketing material in both physical and online form. However, the ownership and intellectual property related to the innovation will remain with its owners or applicant and will be kept intact while sharing the innovation.

In case an innovation is selected, the innovators will try their utmost to attend the award ceremony event.

All decisions pertaining to any conflicts arising during the event will be decided fully and finally by GIAN & Amazon with no other alternative recourse.