Biomass Gasifier System by Rai Singh Dahiya (Rajasthan)
Problem Addressed: The innovator found that increasing demand for diesel engines in agriculture may result in costlier energy source for small farmers due to rising cost of diesel. He decided to build a gasifier that could convert biomass into producer gas using hardwood pieces initially.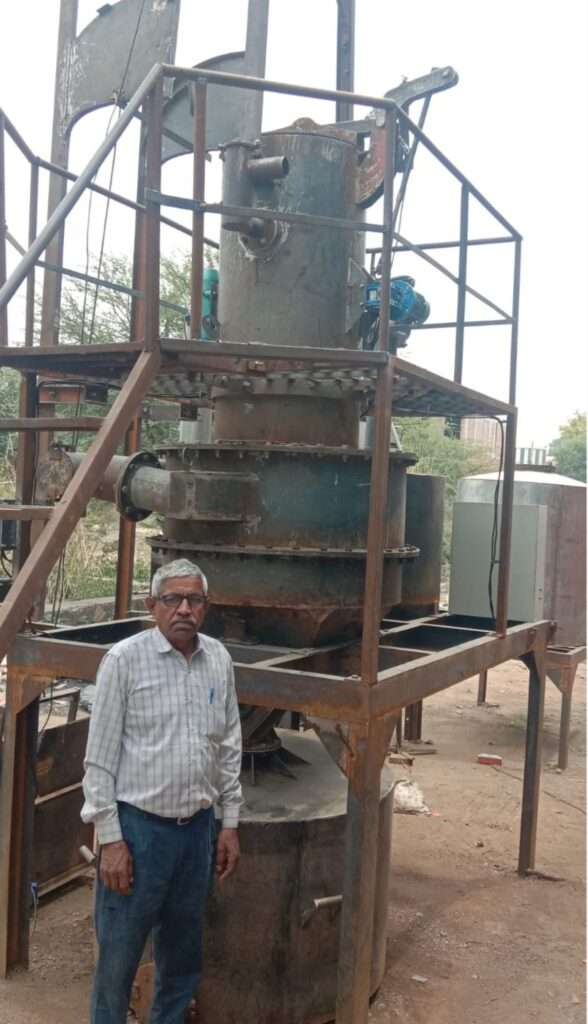 Technology: The unit consists of a gasifier, which generates producer gas from bio-waste and uses it to run an engine. The gasifier is conical in shape, compact in design, and surrounded by a water jacket with the capability to handle multiple fuel sources. The air inlet is provided at the bottom. The system has two stages for removing ash, charred residue, and tar. The primary filter unit comprises a series of rows of filtration units; each series consists of a rod over which semicircular baffles having perforation are welded. Perforation becomes progressively smaller from the first to the third filtration unit.
Societal Impact: All types of wood waste and fuel wood Stalks of cotton, pluses, coconut shells, coconut palm stalks, Maize cobs, Rice husk, Branches & twinges, briquettes of various agricultural residues, Certain Industrial wastes of paper mills, plywood industry, etc., can be used as a fuel and The fuel consumption is reported to be 1 kg/kVA, claimed to be almost 30-35 per cent lesser than conventional gasifiers which are beneficiary for farmers and other users. He has won many awards for his technology. He was honoured like many others by NIF at Rashtrapati Bhavan.
Current Status: Enersol Biopower Private Limited, Raj Singh's company also manufactures and supplies biogas services like anaerobic digester systems and CSTR biogas plants for both thermal and electrical applications, biomass cook stoves, pellet cook stoves, and biomass heat burners. They are a pioneer in the field of small-size biomass gasifiers for power generation. He has sold gasifiers all over the country and some abroad too.